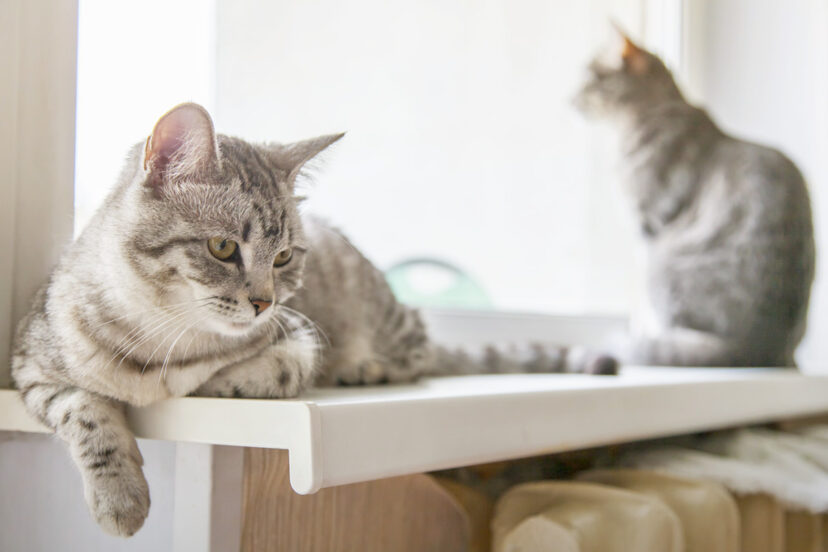 Preparing for a Cat-Friendly Spring Season
While there might still be a chill in the air, spring fever is already underway for cats longing for the return of bird watching in the screened window. As we anticipate sunnier days ahead, the changing season is a good time to reevaluate how cat-proof your house is. From screened-in windows to non-toxic flowers, we're sharing easy ways to transition your home to spring with your cat's well-being in mind.
Secure Open Windows
If your cat is a window sill lounger, you know how much they love breathing in the fresh air while warming their fur under the sun. Before your cat commences another season of bird watching, make sure your screens are safely secured and any holes that have occurred over the winter months are patched. A loose screen could mean an escape route for an indoor kitty!
Safely Store Cleaning Products
Already have spring cleaning on the brain? Be mindful that many cleaning products contain chemicals that can be very dangerous to a cat's health. Whether in a drawer or under the sink, always store harmful chemical-based cleaners where your pets can't access them. Switching to all-natural cleaning solutions can offer an even safer solution for your cat!
Refresh Their Environment
After the window screens have been properly inspected, try creating a comfy space for your cat to enjoy an extra dose of fresh air. Give their bedding a wash in the laundry and tuck it under the breezy window for a relaxing space to lounge the day away. For added tranquility, try sprinkling a light dusting of catnip around their bed for the ultimate zen zone.
Be Cautious of Toxic Flowers
April showers bring May flowers, but did you know your bouquet might be a danger to your cat? Check your home for any plants or items that could be harmful to your cat. Common flowers such as lilies, baby's breath, daffodils and carnations are all considered poisonous to cats—and sometimes a little too tempting to chew. Here's a list of our favorite cat-safe blooms:
Aster
Daisies
Orchids
Roses
Hyacinths
Snapdragon
Sunflowers
African Violets
Marigolds
Zinnias
Learn About Kitten Season
While "kitten season" sounds like a magical time full of tiny paws, it can be hectic for animal shelters trying to manage the influx of kittens being born and brought in. Animal shelters across the country are often at or near capacity between April and October. If you're considering adopting or fostering, visit your local shelter and learn more about kitten season here.
Touch of Outdoors™ Litter
Enrich your cat's environment by bringing the outdoor experience in with our Touch of Outdoors™ litter. Made with natural clay litter combined with chemical-free prairie grass grown in our fields, Touch of Outdoors™ uses natural chlorophyll for odor control. It can help your cat feel less anxious, bored or depressed, translating into a happier cat environment!
Just like our cats, we can't wait for the return of spring! If your indoor cat is dreaming of wide-open spaces, it could mean Touch of Outdoors™ is the perfect solution. Want to discover which of our veterinarian formulated litters is right for your cat's needs? Find the ideal litter for a spring refresh by taking our free litter quiz!