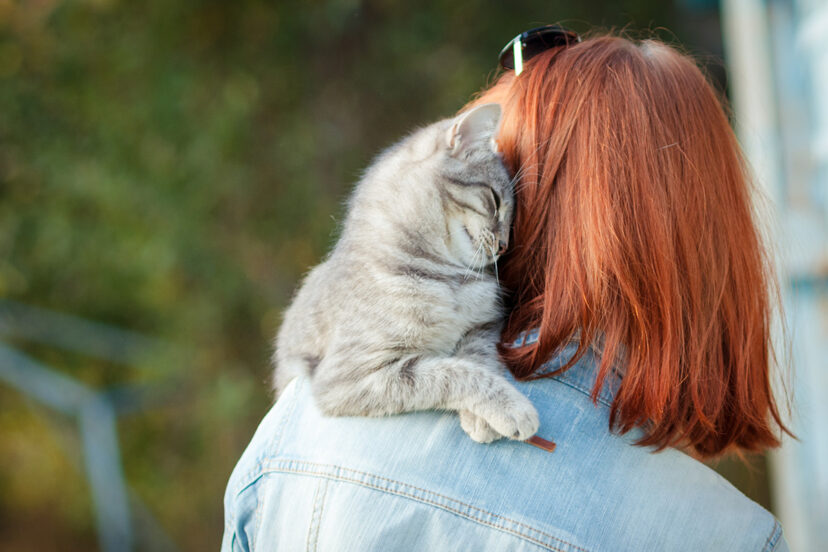 6 Ways to Show Your Cat You Love Them
The season of love is here once again. While some scramble to make dinner reservations and stop by the florist for a bouquet, we think our cats make the purrfect date. From head boops to making playtime a priority, we're sharing how you can show your cat you love them.
Learn Their Love Language
Understand what your cat is telling you by learning the meaning behind their body language. While murmurs and purrs indicate a content kitty, did you know that cats also slow blink at each other and their humans when they're feeling at ease? Offer these "cat kisses" back by getting at eye-level with your cat and slowly blinking to return this feline gesture of love. When cats offer their head for a boop or nuzzle, they're showing trust and affection for their owner. If they're offering you a boop, try leaning your head down to offer one in return.
Make Playtime a Priority
Not only does playtime allow your cat to express their natural instincts, but it can also increase the bond you share together. There are countless creative ways to make your home purrfect for playtime while ensuring your cat is living a satisfying life indoors. Try mimicking natural behaviors like scratching, hunting, stalking and chewing with games involving cardboard boxes to climb on and explore or hidden toys filled with kibble so that they can practice their hunting skills. When done regularly, playtime is the best tool for bonding, socializing and training.
Upgrade Their Amenities
Cozy beds for catnapping and toys are just a few household items your cat is sure to appreciate. Boredom can lead to restlessness and even destructive behavior, so providing activities like food puzzles or a simple cardboard box can keep your cat entertained when you're too busy to offer constant cuddles.
Treats for Stress Relief
Have a natural scaredy-cat? Treat them to a soothing surprise or two for instant stress relief. Create a calming environment for your cat by adding a bird feeder outside their favorite window perch, or search the internet for videos of wildlife for them to cuddle up and watch. For fast-acting relaxation, sprinkle a bit of catnip on the floor and watch them roll. If your cat is easily stressed, creating 'safe spaces' around the house can provide the perfect hideaway while still allowing your cat to take part in the daily happenings around the house.
A Dinner Date for Two
Nothing says "I love you" in a cat's eyes like an upgraded dinner filled with animal-based protein. The right diet can go a long way for improving your cat's health. That's why choosing a biologically appropriate food is ideal for rounding out your feline's care routine. Inspired by the protein levels found in your cat's natural prey, Dr. Elsey's cleanprotein™ was created to recognize the importance of a protein-based feline diet. Set the table for two and choose between a variety of kibble or paté recipes for your dinner guest to enjoy.
Share Your Love With Us
Whether they're sleeping on our laps or cuddled up next to us on the couch, we're thankful for the unconditional love our pets provide. Despite the fact they cannot respond to us with words, the company and support of a cat can ease our hearts and minds as we work to process our feelings.
This emotional interaction between humans and cats has even been proven to be both therapeutic and healing. By partnering with the Multiple Myeloma Research Foundation, co-founders Kathy Elsey and Dr. Bruce Elsey are helping support cancer research while bringing awareness to the healing power behind pet therapy.
Has therapeutic time spent in the company of your cat positively impacted your health and wellness journey? Share your story with us by tagging @drelseys and using #shareyourstory on Instagram. We'll share our favorite stories, photographs and anecdotes to our feed!