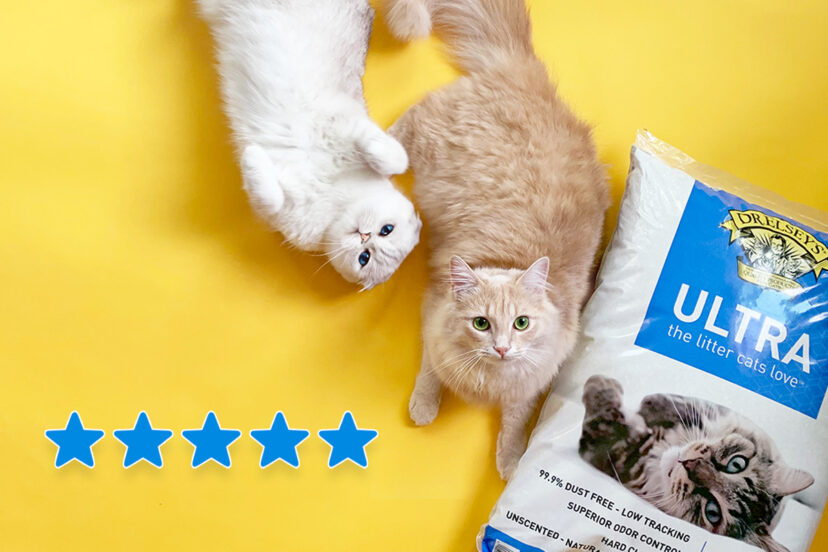 Our Best-Selling Litter: As Seen in Forbes, Wirecutter & More
Here at Dr. Elsey's, we strive to make products that are mutually beneficial for both cat and owner. Veterinarian formulated and great at keeping your home smelling fresh, our clumping Ultra litter is our best-seller for a reason. While the superior odor control is a strong selling point for our cat parents, our Ultra litter is also easy to clean thanks to its hard-clumping clay formula. Take a look at how our reviewers online have experienced Ultra litter for themselves.
"After more than a month of testing eight popular litters with the help of my cat, Piper, Dr. Elsey's Ultra earned the highest marks overall. Its low-dust formula made less of a mess than many other products, and the clay formed easy-to-scoop clumps while neutralizing odors for the duration of testing." – Forbes
"No brand of cat litter outperforms Dr. Elsey's Ultra's combination of solid odor control, scoopability, and low dust profile—all at an affordable price. It's the only cat litter we found that completely traps simulated cat-waste odors. This litter also quickly clumps when wet, and the clumps retain their shape when you're scooping better than most other litters. Dr. Elsey's also produces less dust than half of the brands we tested, and the dust won't overwhelm you when you're pouring fresh litter into the pan or scooping out a day's worth of cat mess." – The New York Times
"Dr. Elsey's Ultra litter's medium-size clay granules form hard clumps that you can scoop out easily.In our at-home tests, daily litter box cleaning became a 20-second chore with this litter. It's also one of the best litters to use with the Litter-Robot 4. This brand has no added scents but controls odor well, even with multiple cats." – Good Housekeeping
"The litter is fantastic. I poured it easily into my litter box and my cat had no problems using it. We've had issues with big brand stuff from the local grocery or supermarket in the past being rejected initially by cats, but not Dr. Elsey's!" – PetKeen
Learn more about our line of veterinarian-formulated litters by visiting our Instagram page!