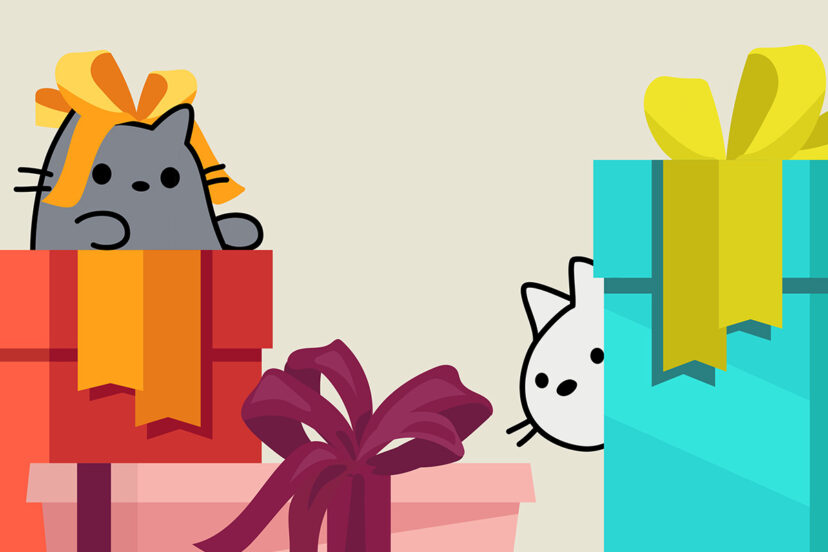 12 Purrfect Holiday Gift Ideas for Cats
Whether your kitty has made it onto Santa Claw's naughty or nice list, odds are you're planning to spoil them, all the same. With toys and treats purrfect for filling your cat's stocking or leaving under the tree (with extra tissue paper for playing), we're sharing our guide to which goodies to gift your kitty this holiday season.
Cat Bed
Take your kitty's self-care routine to the next level with the Puff Cat Bed from tuft + paw to help them relax and unwind. The inner bowl provides a warm and cozy spot to curl up, while an elevated rim serves as the perfect headrest.
Cat Nip Toys
A cat's favorite stocking stuffer, keep your kitty entertained with the zoomie-inducing effects of cat nip. A combination of quality design and a cat's favorite herb, we love the fun fabric choices available at Courtney's Cat Shop.
Water Fountain
Did you know that running water signals to cats that water is safe and fresh? Make hydration a priority in the new year by gifting your cat an upgraded water bowl like the Capsule Automatic Pet Water Fountain from Petlibro.
Cat Tower
The ultimate all-in-one spot for your kitty to lounge, leap and lookout from, this faux fur-covered cat tree offers a built-in scratcher, toys and multiple perches for your cat to curl up on for a space of their very own.
Automatic Feeder
Designed to keep every bite of kibble as fresh as the first, the Granary Automatic Pet Feeder from Petlibro allows you to schedule your cat's daily feeding. It also includes a voice recording function to help call kitties when it's time to eat!
Cat Scratcher
A lounger and home decor piece all in one, this Ultimate Cat Scratcher Lounge from PetFusion is made from recycled cardboard for a gift you can feel good about gifting. Offer your kitty a place to scratch for healthy claws, exercise and stress relief!
Interactive Toys
Keep your cat active while encouraging natural hunting skills with interactive toys like this selection of wands and bug chasers from RompiCatz. Bond with your cat while giving them the gift of mental and physical exercise!
New Collar
Upgrade your cat's style with a brand new collar, like our orange safety collars available in specially marked bags of Ultra litter. Help them stay safe indoors by including updated contact information in the event your cat gets out.
Cat Puzzle
Give your cat a challenge with an interactive puzzle like this bug-themed food puzzle, which includes 16 hidden treat compartments to keep your smarty cat's brain and paws busy while engaging their hunting and foraging instincts.
Litter Box
Freshen up your home with a brand new kitty throne, like this Betterbox Large Non-Stick Litter Box from PetFusion. Built with high walls and an open top box, provide an inviting space to promote healthy usage.
Dr. Elsey's cleanprotein™
Inspired by the protein levels found in your cat's natural prey, treat your cat to a stocking filled Dr. Elsey's cleanprotein™ for the ultimate holiday feast! With a variety of kibble and paté recipes to choose from, promote a healthy, active lifestyle for your cat with animal-based protein as the first ingredient.
Dr. Elsey's Cat Litter
The most important gift of all? Litter of course! Choose from our selection of 12 different veterinarian formulated solutions featuring hard clumping clay litter and superior odor control to keep cats happy and coming back to the box.
Make your cat's holidays all the merrier with the right litter! Take our free litter quiz to discover which of our veterinarian formulated litters best fits your cat's needs.