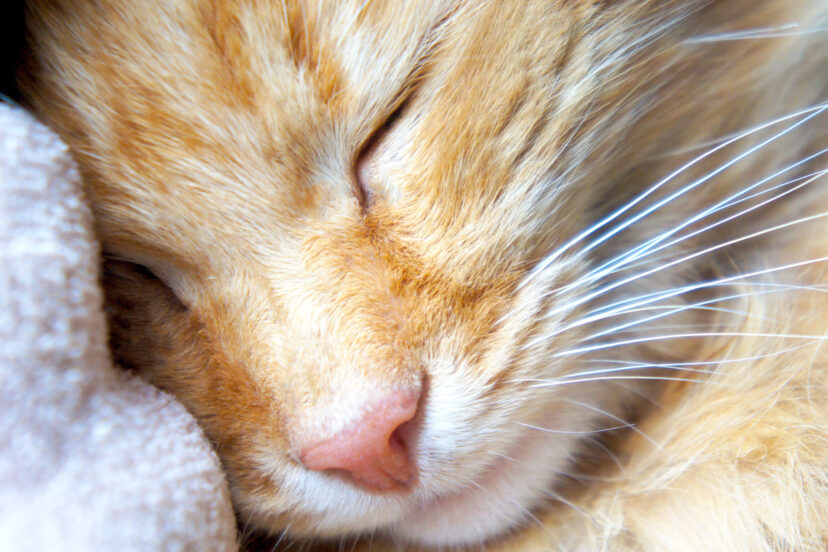 Why We're Thankful for Our Cats
During this season of gratitude, we're feeling extra thankful for our feline friends. From their superior snuggling abilities to therapeutic time spent in their company, we're sharing why we're thankful for our cats and how their affection can help ease our mind and body.
Remind Us to Appreciate the Little Things
Cats know that it's the little things like an empty box or rogue piece of paper that make an average day great. Treat them to something special like the contents of your recycling bin turned into a cardboard maze for a day of play they're sure to love.
Understand When We're Feeling Down
Whether you're feeling sad, lonely or under the weather, cats have a special knack for knowing when we're not quite ourselves. From kneading your blanket to providing purrs, the comfort they offer us when we're feeling down makes all the difference.
Greet Us After a Long Day
There's nothing better than coming home after a long day and being greeted by your cat who can't wait to cuddle up on the couch. Whether you live alone or your cat is part of the family, their greeting at the door is the purrfect way to end the day.
Our Designated Bug Catcher
We've all been there. You see something scurrying across the floor from the corner of your eye. But before you can even scream, there's a fast-acting cat ready to pounce and take care of the pesky pest. No fly swatter needed.
Silly Antics That Makes Us Smile
Cats are a spectacular source of comic relief. From late-night zoomies to the chaos that ensues from a paper bag, they sure know how to keep us laughing. Have a funny feline worth sharing? Tag us on Instagram and use #drelseys for a chance to be featured on our feed!
Provide Calm and Relieve Our Pain
While the comforting melody of purrs indicates a content and cozy cat, the sound has also been associated with a therapeutic healing ability on human bones and muscle. Purring vibrations have been shown to help relieve pain and achy muscles and reduce heart attack risk by nearly one third.
Offer Unconditional Love
Whether they're sleeping on our laps or keeping us company from room to room, we're thankful for their love. While it can sometimes be hard to tell, cats show their affection in several subtle ways, including head butting, kneading their paws and sitting beside us (or on top of our keyboards).
Many know firsthand of the unconditional love offered by pets during times of hardship, but did you know there are proven therapeutic benefits to all those purrs and nuzzles? Animal companionship is known to reduce loneliness, depression and anxiety. Despite the fact they cannot respond to us with words, the company and support of a cat can ease our hearts as we work to process our feelings. This emotional interaction between humans and cats can prove to be both therapeutic and healing.
By partnering with the Multiple Myeloma Research Foundation, co-founders Kathy Elsey and Dr. Bruce Elsey are helping support cancer research while bringing awareness to the healing power behind pet therapy. Has therapeutic time spent in the company of your cat positively impacted your health and wellness journey? Share your story with us by tagging @drelseys and using #shareyourstory on Instagram. We'll share our favorite stories, photographs and anecdotes to our feed!