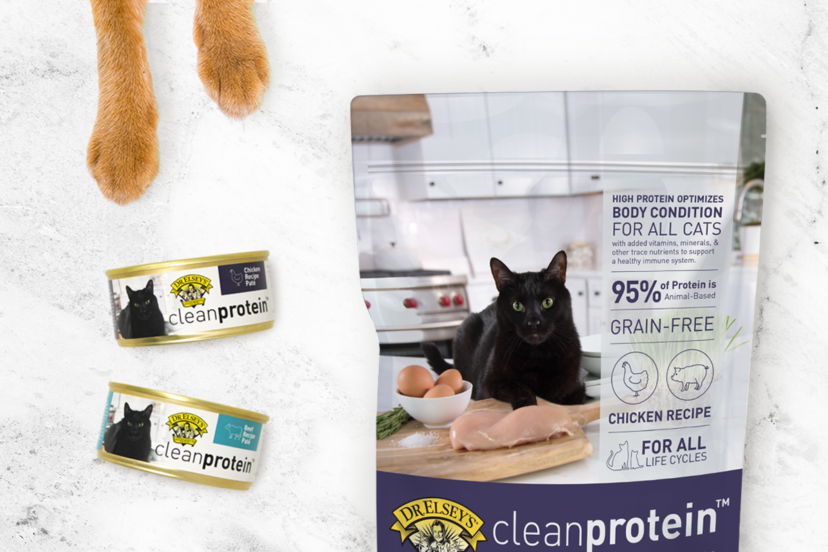 Our Customers Share on Dr. Elsey's cleanprotein™
Amazing benefits happen to cats who eat Dr. Elsey's cleanprotein™. Inspired by the protein levels found in your cat's natural prey, cleanprotein™ is designed to help your cat stay satisfied longer for a fun-fueled day of play. Don't just take our word for it, check out some of these amazing reviews from our customers!
Healthy & Shiny Coat
"Any food, no matter how good for a cat it is, will be useless if they won't eat it. Our cats love this food so much that when I first purchased it, in the dark of night, they busted into the pantry where the food was kept. Now after several weeks of Dr. Elsey's cleanprotein™, their coats are shiny and they play like kittens despite the fact they are 14 years old!"
"I have six Oriental Shorthair cats. Four are seniors and all are spayed or neutered. I free feed my cats so before I started feeding Dr. Elsey's cleanprotein™ many were overweight. Since I've switched to cleanprotein™, everyone is in perfect weight and their coats look wonderful. Thanks, Dr. Elsey's for developing a quality food that really benefits my furbabies."
"This low-glycemic cat food has changed my 17-year-old's life who is diabetic. He is a different cat since eating it for the past two weeks. I also have a 20-year-old cat with hyperthyroidism who can't stop eating it. His scraggly hair looks like a mink coat now."
Lowered Insulin Dependence
"Our 12-year-old cat began having symptoms (failure to groom, significant weight loss, lethargic, throwing up and voracious water-drinking). The vet ran tests; glucose ~350. We are retired, travel frequently, can't do twice/daily insulin injections. I immediately did research and ordered Dr. Elsey's cleanprotein™. Two months later, his glucose is just under 200, he's grooming himself, back to chasing his sister around the house, has gained weight and no more vomiting. The vet is very impressed and told us to continue with Dr. Elsey's, and that at this time insulin doesn't seem to be required. We will monitor him very closely, and we're optimistic!"
"My cats love it. I have one who's diabetic and one who's very fussy, so separate types of food made mealtimes complicated. I asked my veterinarian to review the nutritional values before my first purchase and Dr. Elsey's cleanprotein™ got his enthusiastic "okay." Now mealtimes are easier and I have the satisfaction of feeding my cats high-quality food that's really good for them. Thank you!"
"My 10-year-old diabetic male, Wilder, has been enjoying Dr. Elsey's cleanprotein™ Turkey Recipe Paté for over a year. His weight is good and his vet recently reduced his insulin by half a unit, agreeing that his excellent diet may be responsible. Wilder is thriving, thanks to Dr. Elsey's!"
Flavor You Can Count On
"As a certified feline behavior specialist who has studied and researched nutrition, it is refreshing to see a species-appropriate canned food on the market. The quality of your ingredients, the nutritional breakdown and that its animal-based protein is excellent. My cat loves Dr. Elsey's and I recommend it to my behavior clients as well who are looking for a better food for their cats! Thank you!!!"
"Purchased a bag of Dr. Elsey's cleanprotein™ Chicken Recipe and With Salmon and a case of the cleanprotein™ Chicken Recipe Paté! Sarah loves it and her fur is looking so healthy and feeling so soft and shiny! Sarah is a purebred Chinchilla Persian cat, so a high-protein, meat-based and low-carbohydrate diet was vital for me in choosing a food for her because that is what is required for her breed. Dr. Elsey's fit the bill! Sarah is thriving on this food! Thank you Dr. Elsey's!"
"All three of my cats, even the very finicky one, have gone nuts for this food! They love it! I give my cats both the dry food and the recipe paté cans at different times of the day and night. I do not overfeed, I split one can between three cats two times a day and I give a little of the dry food for them to nibble on when I am not going to be home for several hours, however, they love it and gobble not nibble!"
At Dr. Elsey's, we know the right diet goes a long way. That's why we created cleanprotein™—so cats can eat less, stay full longer and live a healthy and active lifestyle! Leave us a review and let us know how your cats are enjoying Dr. Elsey's cleanprotein™!