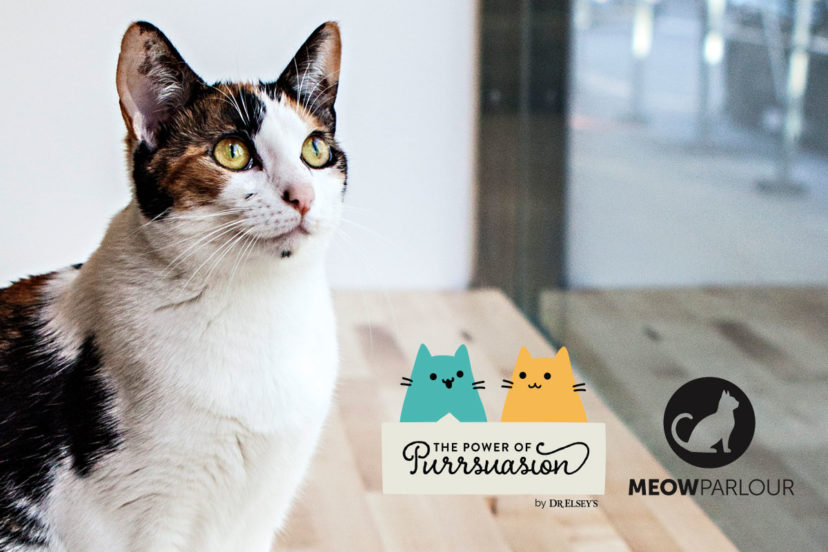 Recap & Results: Power of Purrsuasion in NYC
After a successful month in the big apple, we're happy to report the results of Dr. Elsey's first Power of Purrsuasion pop-up adoption event! The Power of Purrsuasion took over Meow Parlour in NYC April 22–May 17 to help find forever homes for its furry residents, while "purrsuading" the minds of those hesitant to adopt by sharing the benefits of owning a cat.
During the course of the event, a record-breaking 35 cats were adopted at Meow Parlour, with their new human counterparts receiving complimentary Adoption Starter Kits full of items from Dr. Elsey's line of products as well as campaign partners. Additionally, adopters received financial support with their adoptions and entrance fees, along with educational resources to help ease the transition with their new pets.
"This is the first time we've ever done a promotion that felt so natural to the core of who we are—we want to help people complete their families by adopting," said Meow Parlour Owner Christina Ha. "Our adopters were thrilled with the gifts they received, and the majority of them also made a donation to Meow Parlour to pay it forward."
With the help of these donation funds, Meow Parlour was able to rescue three cats and two kittens from the Detroit, MI area.
Here are a few Power of Purrsuasion success stories to help you put names to furry faces, and learn more about the powerful impact adoption has on a cat's life.
Whiskey
A guest who had been thinking about adopting visited Meow Parlour, only to discover both her dream cat and everything she needed to take him home that day. After a moment of love at first sight, Whiskey left only half an hour after meeting his new owner. Whiskey had not adjusted well to being at Meow Parlour and was overwhelmed by both the people and other cats. Now, he is relaxing in his new NYC pad with a loving owner!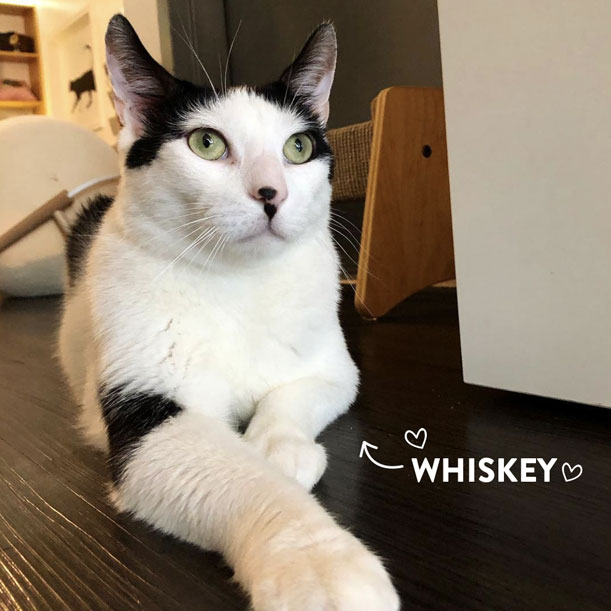 Mashed Potato
A challenging cat due to his incredibly long greyhound-like shape, Mashed Potato and his boundless energy needed a home that essentially wanted a dog that could never go outside. Incidentally, one of Meow Parlour's employees had hired a repairman for her home and he mentioned that he was looking for that exact kind of cat—a match made in heaven!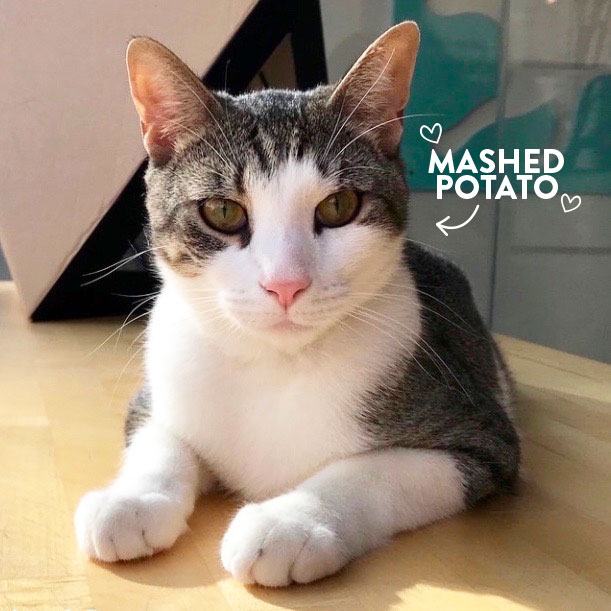 Side Salad & Kirby
An especially challenging placement, Side Salad was Meow Parlour's longest stay of 2019 and was in foster care due to complicated behavioral issues. He exhibited some biting behavior, exuberant playfulness and intensity. After consulting with a behaviorist, a seven-month-old kitten named Kirby was brought in to see if Side Salad would do well with a companion. Within days, they became bonded best friends. With the search for an adopter who was open to taking in two bonded cats (and willing to work with Side Salad's behavior), an incredibly understanding couple fell in love with the pair. They were so grateful for the promotion that they put down the adoption fee for our next two hardest to place cats—a bonded pair whose owner had passed suddenly. Now they can continue being best friends for life!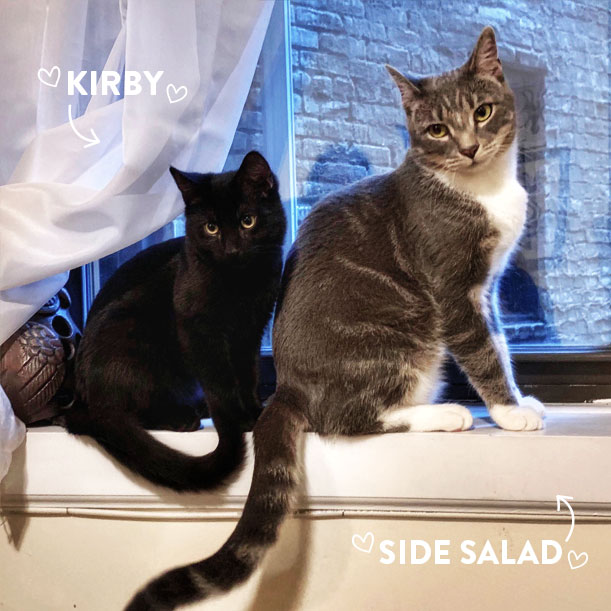 Our goal for the Power of Purrsuasion campaign is to create an educational opportunity that leaves attendees feeling empowered to adopt. Interested in knowing where we're heading next? Follow Dr. Elsey's on Facebook and Instagram to stay updated on our next Power of Purrsuasion location!