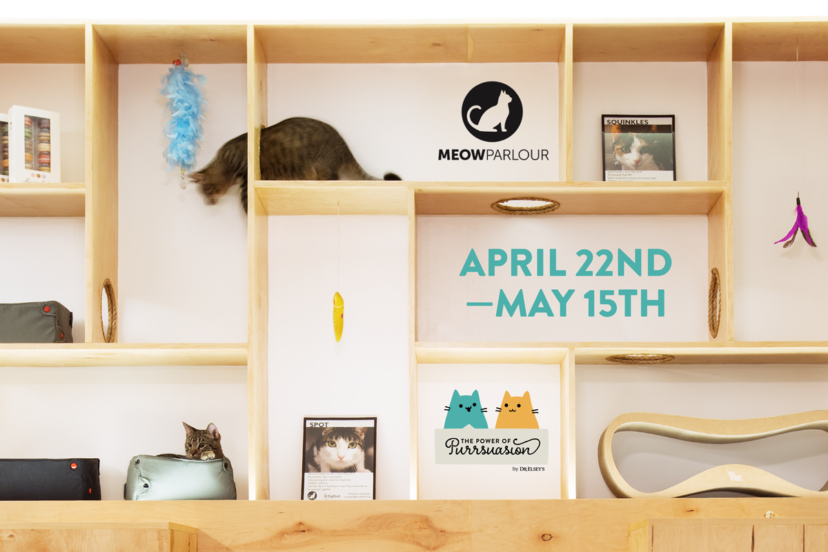 Dr. Elsey's Power of Purrsuasion in NYC
We all know someone who could use a feline friend, and with 3.4 million cats entering shelters each year Dr. Elsey's is on a mission to make a change. Introducing the Power of Purrsuasion, a campaign aimed towards "purrsuading" the minds of those hesitant to adopt. Coming to New York City April 22 – May 15, Dr. Elsey's will be hosting the first ever Power of Purrsuasion pop-up adoption event at Meow Parlour, NYC's first cat cafe.
The Power of Purrsuasion aims to increase adoption rates by raising awareness of the benefits of owning a cat to those unsure of adopting. During the course of the event, lucky adopters will receive a complimentary Adoption Starter Kit full of items from Dr. Elsey's line of products as well as campaign partners while supplies last. Additionally, on a first come first serve basis, adopters will receive financial support with their adoptions and covered entrance fees, along with educational resources to help ease the transition with their new pets.
Those uncertain about becoming cat owners can attend the Dr. Elsey's sponsored event at Meow Parlour, with entry fees waived while funds last, and mingle with potential forever friends while learning more about cat ownership. The goal of the Power of Purrsuasion campaign is to create an educational opportunity that leaves attendees feeling empowered to adopt.
Visit our event page on Facebook to RSVP and learn more about the Power of Purrsuasion.