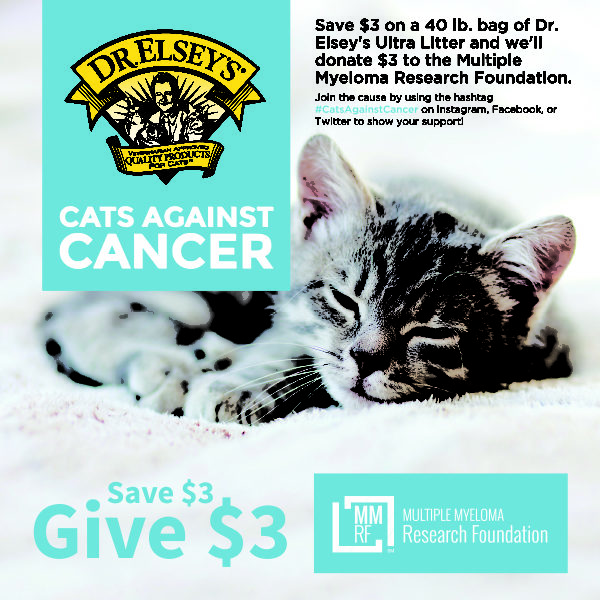 Pets Helping People
When Kathy Elsey was diagnosed with multiple myeloma, the second most common blood cancer, she and her husband Dr. Bruce Elsey, co-founders of Dr. Elsey's Products, knew they had a unique position to combine corporate success with a philanthropic cause: a commitment to cure cancer. By establishing the Dr. Elsey's Fund to Cure Cancer to support the Multiple Myeloma Research Foundation (MMRF), their generous support of nearly $9 million since 2009 has rapidly accelerated the development of new treatments for patients and driven the MMRF closer than ever towards finding a cure.
Make a difference now. Join the Cats Against Cancer movement, which runs through February 2017, and help find a cure by visiting   http://www.drelseys.com/save3/
After you have downloaded your coupon, share a photo, your story, or your support. Upload your photo and story or use #CatsAgainstCancer on Instagram, Twitter, or Facebook.
Learn more about Multiple Myeloma and the Multiple Myeloma Research Foundation https://www.themmrf.org/multiple-myeloma/what-is-multiple-myeloma/